Creating social media content is a worthwhile effort for most businesses. After all, social content—especially video—helps expand your business's reach, build community with your audience, and build a recognizable, engaging brand.
But many content creators wonder if there's another benefit to social content: improved SEO rankings. Does social media content affect SEO rankings, and if so, how should you approach your content accordingly? Explore our findings and recommendations below!
Does Social Media Content Affect SEO Rankings?
As with many elements of the marketing world, the answer lies in a bit of a gray area. Google has shared that social media posts (and their related metrics) don't directly impact where your content will land on the search engine results page (SERP).
Still, there's a clear connection between many of the effects of social posting and SEO results. In its simplest form, effective social media content helps increase your general content and brand exposure, which has downstream benefits for SEO.
With that in mind, let's take a closer look at six ways your social content can drive SEO success.
How to Create Social Content That Impacts SEO
1. Gain backlinks with content visibility
Chances are, some of your social content is designed to amplify existing content from your website. Whether you're promoting a recent blog article, a case study, a report, or any other form of web-based content, your social posts will help get more eyes on the finished piece.
When you expand the reach of your content, you also increase the likelihood that it'll be referenced in blog articles and social posts from other brands and creators. The resulting backlinks are a direct reflection of your social presence, and they also signal to Google that your content is worth reading. Over time, your SEO ranking may improve accordingly.
2. Boost credibility through social sharing
Social sharing also helps boost your credibility with your audience. The more trustworthy you become on your social platform(s) of choice, the more likely your followers will return to your content as a trusted source in the future.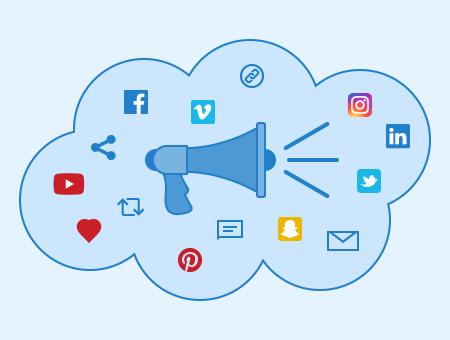 Video is a uniquely helpful tool for this, especially for brands that want to be perceived as genuine or authentic. Each video you post solidifies the relationship you're building with followers, and they'll remember your connection when they see your brand name elsewhere.
As with the previous example, when users actively seek out your content, search engines will learn to trust that your content is valuable.
3. Improve dwell time
One stat that we know does affect SEO success? Time spent on page. And when social media helps you drive an engaged audience to your site content, they're more likely to stay on that page—and the rest of your site—longer.
Search engine algorithms will then take the time on page (and time on site) averages into account when determining your rank. Make the most of this connection by sharing relevant content with your followers, and you'll see the related impact on your site stats. (Bonus points if there's a video on the page itself to encourage users to stay even longer!)
4. Test content iterations
Many content creators treat social media as a place to run experiments, which can work especially well to inform SEO choices down the line.
For example, when promoting a new piece of content, marketers can test different descriptive language and imagery across different platforms. The variation that gets the most engagement can then be applied to the original content itself, ensuring that the headline and other teaser content are as enticing as possible.
This step alone is an effective way to maximize the results of each piece of content, improving the likelihood that it will gain traction via search.
5. Identify keyword and content opportunities
Building a social audience is one of the most direct ways to communicate with your target audience. In your brand's DMs and comments, you're likely to come across a wealth of information about what your followers want to see from you moving forward. They'll share questions they'd like answered, product benefits you should highlight, and other context that's helpful for generating new content ideas.
The more aligned your content is with the actual user experience, the more likely your content will be consumed and appreciated. And the more your content is consumed and appreciated, the more search engines will reward your efforts.
6. Build legitimacy on the SERP
Finally, don't forget that social content does populate directly on the SERP for branded searches. Your brand's social platforms are likely to come up when someone searches for your business name, and it's important that your presence looks comprehensive and legitimate.
If you don't have a social presence at all, you'll forfeit those first few spots on the SERP, so it's in your best interest to invest in your social strategy in the name of SEO.
Moving Forward
If you need yet another reason to keep posting social content, remember that your social presence affects more than just your social marketing strategy. Social media content doesn't exist in a vacuum, so it can be used in conjunction with other channels to improve your overall strategy.
So, keep creating content that inspires your audience to engage—and remember that video is your engagement-driving MVP. Then, watch as the SEO factors we've outlined above get their own boost in the process. Win, win!